"It's an anatomical extravaganza and standup comedy rolled into one!
Gina's knowledge of anatomy is inspirational! I promise!"
Marni Task
Senior Certified Jivamukti Yoga Teacher and Founder of Jivasara Yoga School, Developer of Indu Lotion.
Read more from Practitioners…
Learn A&P in an engaging environment that is guaranteed to transform your relationship with the human body.
YA approved yoga schools:
Congratulations on establishing a Yoga Alliance approved school.  I know the hard work it takes to earn this designation and you have all of my admiration!
Did you know that failing to deliver anatomy that is content rich, applicable & retainable is the leading cause of a dry mandatory 20 hours that no one likes?
I'd like you to briefly imagine what the yoga world would be like if there was no comprehension or application of functional anatomy – leaving teachers uninformed about the very tool they are responsible for: the body!
Terrifying, right?
Unfortunately, that is a reality in many teacher training program results.
Are you ready to deliver required anatomy training that is applicable, fun & retainable?
Our YA Approved Inspired Anatomy for Yoga Teacher Training Programs:
Ensures all students learn to their peak ability through VAK teaching style – visual, auditory and kinesthetic.
Empowers students about the design and function of the body to provide their foundation as movement therapists.
Offers anatomy comprehension that is immediately useful to assist the yoga experience and prevent injury.
…and much more!
If you are dealing with anatomy that just doesn't land (or worse) click here: http://bit.ly/1Gc6m0X
Anatomy should engage and inspire.  It shouldn't be dry, confusing or simply tolerated.  This is the human body we're talking about – the definition of a walking miracle!
If you are looking for some inspiration, here is a sample of my teaching.
A lot can be shared in a voice.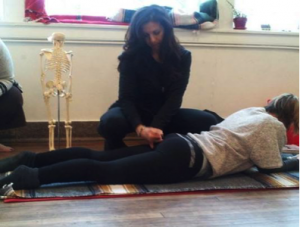 This powerful 20 hour course will provide you with:
Yoga Alliance requirements met (and exceeded!)
Exploration of organs and systems
Musculoskeletal and connective tissues knowledge
Movement & Somatics as applied to yoga
Energy & Eastern anatomy
Therapeutics
Injury modifications & contraindications
10 contact hours & 5 hours applying A&P directly to yoga
Wishing the anatomy portion of your teacher training could be as dynamic and exciting as the rest of your program?
Let me turn it from a mandatory requirement into a desired and celebrated weekend with practical, approachable and rich content. The right anatomy training is an exceptional value to any program. Click here for more info.
Practitioners
How knowledgeable to you feel with anatomy? Most practitioners tell me they wish they had more confidence with anatomy so they can be of service to their students. They also confess that even with a strong yoga practice, they feel unqualified to answer questions about functional anatomy. This shouldn't be you.
Were you engaged and inspired by the anatomy training you received in TT?
You are always welcomed to join another A&P weekend as a refresher or to dig a little deeper. I promise it gets easier each time, and reviewing material makes it clearer, especially after being in the seat of the teacher. A handful of practitioners have taken the anatomy weekend with me multiple times, learning something new each time.
If there is a studio near you needing the anatomy covered for their next teacher training or who would welcome an anatomy immersion for continuing study, click here http://bit.ly/1Gc6m0X