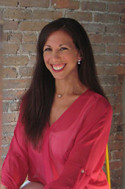 Gina Schatz
BA, LMT, NCTMB, E-RYT
"There is something tremendously rewarding about helping people be well
and empowering them to live healthy lives."
Gina Schatz is a professional massage & bodywork therapist licensed in New York, Ohio and San Francisco with a liberal arts BA in physical science and psychology. Gina is a Nationally Certified Bodywork Therapist, a Registered Yoga Teacher & approved continuing education provider. While in Cleveland, Gina was director and creative mind behind Cleveland's first integrated wellness clinic.
Prior to opening the clinic she was and still is the owner of her own successful private practice and continues to specialize in integrating the whole person through tailored treatment and education that achieve balance and well-being centered on postural excellence. After receiving a Massage Therapy degree in 1993, Gina obtained a self designed undergraduate degree in physical sciences including graduate level pathophysiology, biomechanics and extensive anatomy and physiology. She then continued on to receive national certification in bodywork therapy.
As a practitioner and teacher of bodywork and yoga she strives to combine her extensive anatomy and bodywork knowledge into a comprehensive and therapeutic experience that is accessible to all. She currently teaches the anatomy and physiology portion of the 200 hour Yoga Alliance certified teacher training course for the Jivasara School and taught anatomy in various Yoga Alliance certified teacher training programs.